About Us – Endemic Peru
As Endemic Peru Organization we are a team, which are specialized to provide services to our guests in Peru, we are Peruvians and Local guides with enough experience for guiding and arranging tours at the Amazon Basin in Peru, Andes and Coast. We are Local guides, we live here and we love birds. Most of Endemic Peru's guides are quite busy with our groups because our groups are small and are watching birds and some other species between Andes and the Amazon.
Our team designs the programs according the requirements of our visitors. Endemic Peru works with 95% of the lodges of Manu (Cloud forest and Rainforest) which makes the best wildlife programs designs around Manu National Park and some other hotels and lodges on its programs.
We do not expect to have many groups for us, we only take the groups that we can make our best with them, if you are going to be part of our guest groups; for sure you will be our private guest.
You will be Endemic Peru's ambassador due the tours that we have chosen which should be always be perfectly designed according your interest such as wildlife, luxury, birding spots, short trips and excellent service.
Here we show you some of our members of Endemic Peru.
Rolin Flores Raymondi Naturalist Birding  Guide
He was born in the Manu National Park in the Diamante native village. He perfected his bird guide skills in The National Park Bahuaja Sonene and Manu cloud forest working with one of the most recognized birders Ursula Valdez in 2015, Rolin Flores has traveled to several birding spots in Peru such as Northern, mountain, jungle. He is specialized in bird watching and tours of tropical ecology and nature, He is knowledgeable about native communities and speaks two native languages ​​Yine and Machiguenga (nativive languages spoken in Amazon Raiforest of Peru) in addition to Spanish and English, Portugues. Rolin is now one of the experts watching birds of South America travels, he does ebird too.
William Efrain Huaman de los Heros (Gury)
Gury is from Peru, he is one of our team members; he has been working with wildlife since for this last twelve years at the Amazon Basin at Manu National Park in Southeastern of Peru and rainforest in Bolivia; he is working on his checklist for this big year (2018); he was a member team for projects that National Geographic did in Peru on 2012 and worked for several travel agencies in Peru and he is birds lover.

Violeta Riveros Co-owner – Miguel Ajahuana's wife
Vio has been leading groups in the rainforest of Manu Park, After she has graduated of the San Antonio Abad university in Cusco, she has started to work in some lodges on the way to Manu National Park and guiding at the same time, after this she was working for Peruvian government in a project about conservation of the birds of the high Andean Lakes of San Salvador in Cusco monitoring the Andean birds for three month. She is leading the team of Endemic Peru Company and lives in Cusco.
Javier Amanqui Naturalist Guide
Peruvian guide who has been leading groups for this last fourteen years in Manu and the Andes of Peru, His family has moved to the Jungle thirty five years ago where he grow up in the fields of the Amazon Basin, after he studied Ecotourism in Cusco he was working as wildlife guide in Tambopata National Reserve and the savanna of Bolivia where he got a lot of experience in the rainforest of Peru, then he moved to Cusco working in Manu National Park and birding in the Andes of south east of Peru.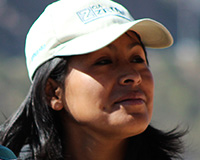 Mery Condori – Booking office manager
Mery is a tourism degree graduated at Andina University in Cuzco. She is working for several years arranging trips to Manu National Park and Machupicchu for birding. She is our sales manager in our team and she is very enthusiastic, likes to take control of most of the birding, and adventures tours in Southeastern Peru; her last eight years working with ecotourism made her efficient and excellent job in all our operation. She would be the first person that you might contact.
Miguel Ajahuana Co-owner and  Endemic Peru's Director
He is a Naturalis guide, who has been working for fourteen years in several National Parks of Peru, Bolivia and Brasil, between the high Andes and the Rainforest, where he got a very good experience, he was born in Cusco – Peru and he is a Tourism degree, he loves wildlife and watching birds too. Miguel took many groups for photo safaris between Peru – Manu and Brazil – Pantanal with grops for Hollywood such as Ito Hideaki and travel agencies such as Utah Birders with Tim Avery. He speaks English Spanish and Portugues and likes to arrange the tours for Endemic Peru. 95% of pictures we show in our web site belongs to him. Linkedin.com for Miguel Ajahuana
David Livia – bird guide
Who was born in Cusco – Peru, He is guiding and watching birds about thirteen years. He was leading a project named "Aves alto Andinas de Huaqrapukara – Acomayo" (high Andean birds of Huaqrapukara – Acomayo), where he was training some local people for being local birdwatching guides; he is a very good Quechua speaker and have very good relationship with Andean people; he has a family in the rainforest, he said he likes rainforest a lot and has a very good knowledge about nature and birds of the Andes and the Jungle of Peru.
Rivelino Llactahuaman Photo Safari guide
He was born in the rainforest of Peru, he likes fun when he is guiding and keeps happy the groups. He started to enjoy birdwatching and mammals from the jungle since he was child. He started to work as guide since 2004 for Manu National Park. He used to work as freelance for several travel agencies and he is almost exclusive for Endemic Peru this last two years. He has been leading groups of birdwatchers by Southeastern Peru identifying some specific points for some endemic species of birds.

Alcides Almendaris our chef
He is a very important member in our team when we are traveling at our long trips to Manu, Machupicchu and the high Andes in Cuzco and Madre de Dios Regions in Peru; he is our cook and has been specialized in Novo Andina food, which are dishes made on Andean Products. He used to work for several lodges in Southeastern Peru such as Tambopata National Reserve and Manu National Park groups. He probably fed more than eight thousand guests in the rainforest and Andes of Peru up to now.