Condor in Cuzco One Full day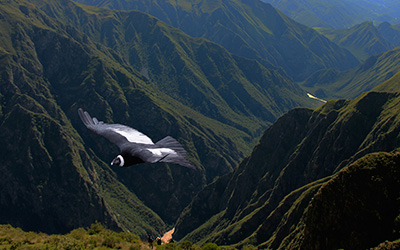 Andean Condors (Vultur gryphus)
we leave at 08:00 hrs. from Cusco. After we pick you up from your hotel we go toward the Northwest of Cusco in a private car.
On the way to the conservation area we take the pavement road where we will make stops for watching  some other bird species and for any other intersting pictures in case you would be interested in.
The name of the closest village is Chonta  which is located at 11 000 feet high  (3350 m.a.s.l.) from we will start to go walking for about 30 minutes until we get to the Mirador del Condor (Condor's viewpoint) where we will enjoy the flying and soaring of Condors on Apurimac Valleythat lasts for about two hours and a half more less. After this Natural show we leave to Cusco, we expect to get to Cusco at 19:00 hrs.
INCLUDED
Naturalist Guide with bird of Peru Book and Binoculars
Private Car
Entrance (Private Conservation Area)
Box lunch