Manu wildlife tours 05 days
In by Bus and out by Plane
Day 01: Cusco – Bambu Lodge
At 6:00 a.m. we will pick you up from the hotel, and then we will keep going through part of sacred valley until we get the first pass which is located at 3700 m. a. s. l. Ninamarca Pre-Incas site. After this, we go down visiting Paucartambo a nice village that is the middle point between the Andes and the Jungle with a very interesting history.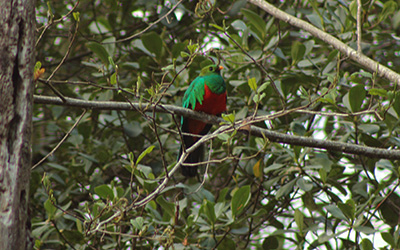 After one hour left Paucartambo we will be on the second pass which is Acjanaco 3560 m. a. s. l. where we will start to see part of the Amazon basin in Peru, from this altitude we will be descending until we get to 760 m.a.s.l. at the lodge located in Hill forest. So this day we will spend mostly in the cloud forest at the habitat of the South American Spectacle, bear, Brown capuchin Monkeys, Scaly napped parrots, a lot of hummingbirds, snakes, Flowers, Bromeliads, Orchids, amazing landscapes covered by clouds.
Day 02: Bambu – Blanquillo lodge
We leave the best valley for Coca leaves named Kosñipata Valley. This day we have two hours by car and six hours navigating on Madre de Dios river, this is a river that flow in to the Amazon river by Brazil and then to the Atlantic ocean, we will have box lunch with us going by Madre de Dios river, by boat until we get to Blanquillo lodge.
Day 03: Blanco and Camungo Oxbow lakes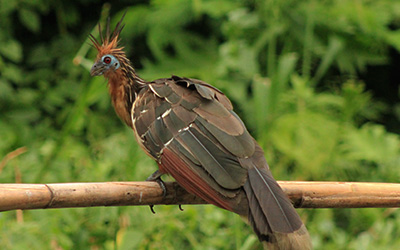 This Day we start early in the morning spotting the wildlife around the oxbow lakes that we will visit, we do expect to see giant river otters, a lot of birds, monkeys and probably toucans.
By the afternoon, we will visit another oxbow lake and climbing up on one of the big trees that is the kapok tree with a spectacular view of the canopy of the rainforest.
Day 04: Clay-lick of Macaws and visiting some trails in the afternoon.
As our goal is we to see more wildlife of Manu rainforest, we leave early in the morning to visit the Clay-lick of Macaws where we will have one of the most amazing mornings of the tour having a nice breakfast in front of the parrots and Macaws.
By the afternoon, we will explore some other trails around Blanquillo lodge increasing our chances to see monkeys and birds.
Day 05: Blanquillo – Cusco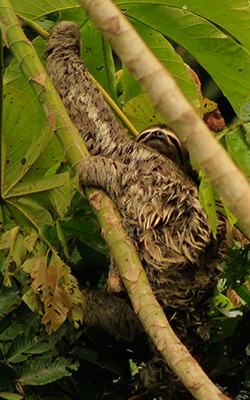 Today we leave by the morning.
After a nice breakfast and we are still in the chances of spotting wildlife of the Amazon basin, still going by the Cloud forest, Today we go by boat and then we take part of the high way that goes across South America which is Peru's Transoceanic road, with amazing views of landscapes, making some stops on the way. Lunch on the way back to Cusco; and making some stops by the Andes until we get to Cusco around 5:00 pm or 6:00 pm.
INCLUDED
Entrance to Macaws Clay-lick (to see the largest macaws in Peru)
Naturalist guide – English and Spanish Language (Telescope, books)
Snacks juices and mineral water
Meals (breakfast, lunch and dinner)
Lodging
Private car and boat
Rubber boots
 Not included:
Flight tickets
Alcoholic drinks
Recommendations:
Best time traveling by Manu National Park is April to November
What to bring?
Light cloths
T-shirts with long sleeves (cotton)
Sunglasses
Sun block
Insect repellent
Sandals
Camera (the guide will tell you where to charge your batteries in this trip)
Bottle of water (we will provide you water for drinking every day)
Raincoat
And Binoculars